---
Theatre production is one of many possibilities how to foster gender sensibility and gender competence. Various theatre productions by Theatre on Crossroads from Banská Bystrica, such as stagings, scenic readings on gender topics and other events, are very important parts of educational activities of the project.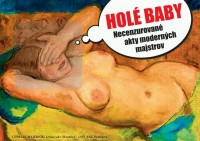 Question: Do women have to be naked to get into the SNG? Answer: At this exhibition they definitely do!!!
The exhibition NUDES is dedicated to the feminist group Guerrilla Girls which has been for 25 years publicly protesting against various forms of sexism and racism - mainly in the area of culture and art.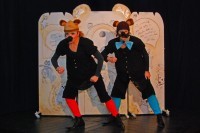 Written and Directed by: Iveta Škripková
Production Design: Martina Fintorová
Music: Juraj Haško
Technological Solution: Katarína Mažáryová. Puppets created by students of the Matej Bell University, supervised by Katarína Lucinkiewiczová
Sound: Martin Číž or Katarína Mažáryová
Performed by: Marianna Mackurová, Mária Šamajová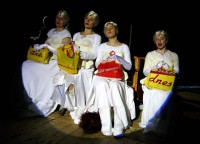 Directed by: Iveta Škripková
Production Design, Costumes, Scene: Soňa Mrázová
Music: selection, Juraj Haško
Choreography: Tatiana Jánošová
Performed by: Mária Šamajová, Marianna Mackurová, Alena Sušilová/Anna Kršiaková, Ivana Kováčová, Stanislava Pázmányová and Slavomíra Fulínová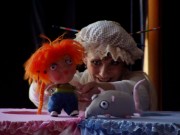 Written and Directed by: Iveta Škripková
Production Design: Katarína Lucinkiewiczová
Music: selection from Les Reines Prochaines
Performed by: Mária Šamajová

Paula's Story

A reconstruction of the lost female writer´s diary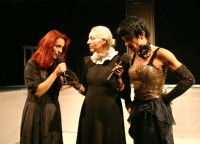 Written and Directed by: Iveta Škripková
Production Design: Katarína Lucinkiewiczová
Music Cooperation: Tibor Vajda, Juraj Haško
Performed by: Mária Šamajová, Marianna Mackurová, Alena Sušilová, Timea Jamrichová
Why I am not an Angel

A stage collage from three books by the Swiss writer Aglaja Veteranyi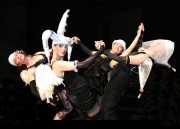 Written and Directed by: Iveta Škripková
Music Cooperation: Juraj Haško
Music: selection, E. Piaf La vie en rose
Performed by: Mária Šamajová, Marianna Mackurová, Alena Sušilová, Stanislava Pázmanyová